! DOCTYPE HTML PUBLIC "-//Netscape Comm. Corp.//DTD HTML//EN">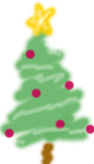 Thank You So Much
For Visiting The Tacky Tree Site!
---
Funding for this site provided by Tripod Enterprises. If you, too, would like 11MG of FREE webspace to create your own page, contact them at http://www.tripod.com/ and become a member today!
We would like to point out at this time that sentiments expressed by persons pertaining to this page are not necessarily those of the creator and/or the Board of Directors.
---

Home|Doug's Desk|Fern's Fashion Pavillion|Frond's Book Nook|E-mail Us