Odd facts about Northanger Abbey



In the beginning: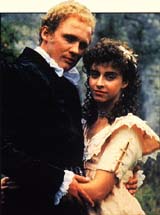 1798: Jane begins a book, Susan, which will become Northanger Abbey.

1803: Manuscript of Susan sold to the publisher Crosby, who never actually publishes the work.

1816: Manuscript is bought back by the family for £10.

1817: Jane Austen starts a new novel, which her family thought was called The Brothers. By March 18 she had written 24,000 words. Eventually this work became known as Sandition. Austen dies on Friday, July 18 at the age of 42. She is buried in Winchester Cathedral the next day. In December, Northanger Abbey (the revised Susan) and Persuasion are published in one volume, dated 1818.
---


Although considered by many to be the wittiest of Jane Austen's novels, Northanger Abbey seems to be the most misunderstood, as this cover illustration and excerpt from a 1965 US printing shows: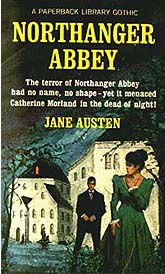 This is a genuine Paperback Library Gothic!

A Holiday Ends as Terror Begins -- Stalking Catherine Morland from every shadowy corner of Northanger Abbey!


Delighted to be a house guest at Northanger Abbey -- ancestral home of Henry Tilney, the man she loves -- Catherine anticipated a time of happiness. Soon, however, the very atmosphere if the old mansion menaced her with strange noises, weird suspicions.

What was the mystery surrounding the death of Henry's mother? Was the family concealing a terrible secret within the elegant rooms of the Abbey?

Could Catherine trust her love? Would Henry tell her the truth, or was he, too, involved in the evil of the house -- an evil which thereatened to emesh Catherine herself.

FAR FROM HOME AND CLOSE TO DANGER,
CATHERINE HAS NOWHERE TO TURN!



---


Baseball was supposedly invented by Abner Doubleday, in the United States, sometime during the Civil War. How is it then that it shows up in children's textbooks as far back as 1744, and is even mentioned in Northanger Abbey?

Mrs Morland was a very good woman, and wished to see her children everything they ought to be; but her time was so much occupied in lying-in and teaching the little ones, that her elder daughters were inevitably left to shift for themselves; and it was not very wonderful that Catherine, who had by nature nothing heroic about her, should prefer cricket, baseball, riding on horseback, and running about the country at the age of fourteen, to books -- or at least books of information -- for, provided that nothing like useful knowledge could be gained from them, provided they were all story and no reflection, she had never any objection to books at all.

Perhaps this is another evidence of varied translations of the same word? (i.e. Football/Soccer)



---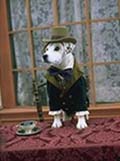 Northanger Abbey has already been filmed twice, as well as being the subject of an off-broadway play in the US, and a production by the Northcott Theater Co., in Britain. Of the two film versions, one is the much maligned NA1, starring Peter Firth as Henry, and Katharine Schlesinger as Catherine. The other, lesser known copy is, of course, NAW -- The Wishbone version, done as a half-hour short on that program. Wishbone certainly made an admirable Henry :~D.



---
Click here for the History of Blaise Castle









Click here to play Real Audio background music
"O Fortuna" From Carmina Burana by Carl Orff

Sign My Guestbook!

Back to top